2018 Ram 2500 vs Toyota Tundra

Above all else, you want to own a vehicle that won't hesitate to churn out unstoppable performance on the roads of Wilsonville, Woodburn, and Sherwood.
And, with either the 2018 Ram 2500 or the 2018 Toyota Tundra as your challenge-confronting coworker, you'll be equipped with the towing strength, dependable capability, and a suite of high-tech gadgets while you're seeing to all your responsibilities. However, only one of these pickups can match your need for speed.
To find out which of these road warriors is capable of managing the toughest tasks, check out this 2018 Ram 2500 vs. Toyota Tundra vehicle comparison created by Findlay Wilsonville Jeep Ram. Before long, you'll be careening down your route inside a pickup that's built to last.
Ram 2500 vs Toyota Tundra: Potent Performance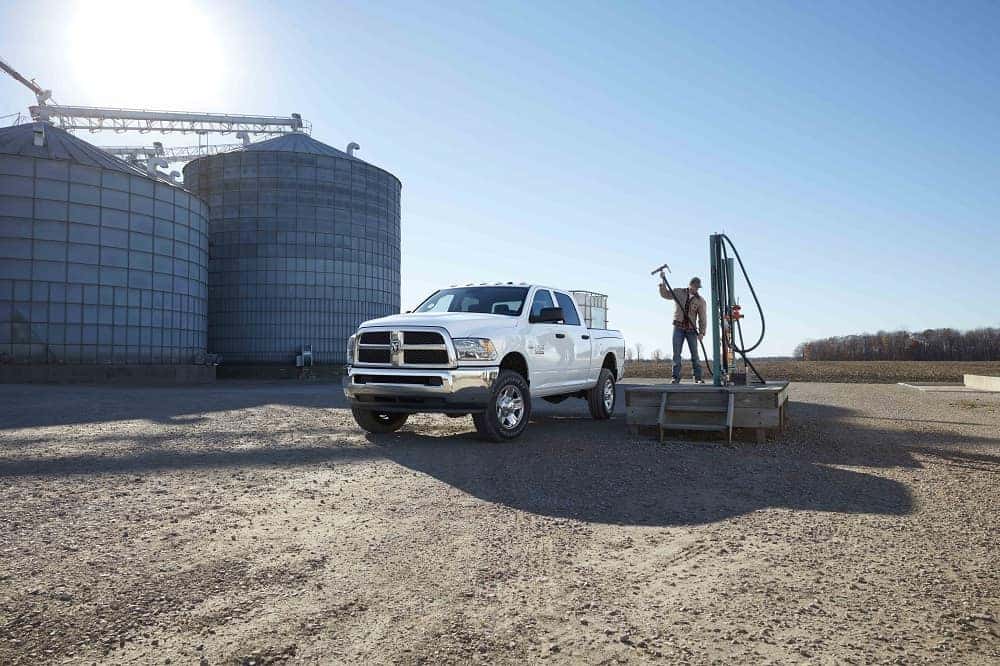 Unyielding performance is what keeps you productive during the busiest days. So, the next time you're presented with a challenge on the construction site or the farm, make sure you're equipped with a hard-working pickup.
Although the 2018 Ram 2500 and the 2018 Toyota Tundra both serve up plenty of capability, one of these trucks outshines the other with its stalwart powertrain system. Let's take a look:
The Ram 2500 comes standard with a 5.7-liter V8 HEMI® engine, which jolts along the road with 383 horsepower and 400 lb-ft of torque.
The Toyota Tundra offers a standard 4.6-liter motor that creates 310 horsepower and 327 lb-ft of torque.
Both the 2018 Ram 2500 and the Toyota Tundra feature standard 6-speed automatic transmissions.
Towing Prowess for Any Job
When you're the commander of an aggressive pickup, nothing should prevent you from hitching up the equipment required for your job and hopping on the road.
That's why both the 2018 Ram 2500 and the 2018 Toyota Tundra arm you with the ability to haul hefty cargo. Unfortunately, the Toyota Tundra doesn't quite match its Ram competitor in terms of muscle.
When properly equipped, the Ram 2500 can pull up to 17,980 pounds.
The Toyota Tundra falls short of those numbers, offering a maximum towing capacity of 10,100 pounds.
The Ram 2500 comes standard with a Class V Receiver Hitch, while the base model of the Toyota Tundra doesn't supply you with a towing hitch receiver.
Technology & Connectivity
After you've accomplished everything you set out to do on a given day, you should hop behind the wheel of an automobile that's ready to deliver on your relaxation and entertainment needs.
Luckily, the 2018 Ram 2500 does exactly that by outfitting its cabin with an optional Uconnect® 4C NAV infotainment system that operates using an 8.4-inch touchscreen. From here, you'll access a suite of thrill-boosting technologies, such as:
Apple CarPlay™
Android Auto™
HD Radio™ and more
The result? A truck that perfectly balances the benefits of brains and brawn. On the other hand, the 2018 Toyota Tundra doesn't present the same amount of entertainment options found in its Ram counterpart.
For example, the available infotainment system comes with a display that maxes out at 7 inches, which may prove to be a little more difficult to control while driving.
Plus, Android Auto™ is not available in any trim level of this truck. Without this gadget, connecting to your own library of music and applications might not be quite so easy.
2018 Ram 2500 vs Toyota Tundra Vehicle Comparison: Results
Now that you've scoped out all the specs included in this 2018 Ram 2500 vs. Toyota Tundra vehicle comparison, there's no question that the Ram 2500 is the winner of this pickup faceoff.
So, if you're eager to get your hands on the wheel of this forceful truck, it's time for you to do just that by taking it for a spin along the roads of Wilsonville, Woodburn, and Sherwood.
All you have to do is stop by the showroom at Findlay Wilsonville Jeep Ram or schedule your test drive today!