New vs Used Jeep Wrangler near Portland OR

Trying to decide on a new vs. used Wrangler near Portland, OR? The team at Wilsonville CDJR can help. We get frequent questions from local car shoppers about whether they should buy a new or used vehicle. So, we created this simple guide, in which we'll cover some of the most common reasons why drivers like either option.
Still have questions? Contact us!
Used Jeep Wrangler in the Portland area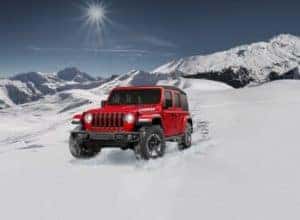 One of the main reasons why Portland area drivers choose a used Wrangler over a new one is that used cars often come with a lower price tag.
Since they may have a lower cost than a new version of the same make and model, many drivers choose to shop for a higher trim level than they may have otherwise. Others may choose to pay more monthly and pay the car off sooner.
Used cars also tend to depreciate at a slower rate than new cars, which means they may retain more of their initial value should you decide to trade it in again later.
A final reason why Portland area drivers choose a used Jeep Wrangler is because the used car inventory may have a wider variety of options, since you're not limited to any specific model year. This may allow you to discover a rare or out-of-production model, like the Willys Wheeler trim level.
New Jeep Wrangler near Portland
While a new Wrangler may have a higher sale price than a used one, it's important to keep in mind that there's a trade-off: New Jeep Wrangler models may have lower maintenance costs and require fewer repairs and less regular maintenance.
Another big reason why Portland area drivers like to shop for a new Jeep Wrangler is because the fresh-from-the-factory models feature the newest features. This includes the most updated design elements, as well as high-tech infotainment, safety, and convenience features.
Finally, buying your SUV from the new inventory gives you the option to add optional packages, which you may not be able to do with a used car.
Jeep Wrangler Overview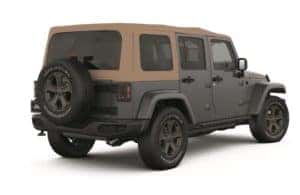 Whether you decide to buy a used or new Jeep Wrangler near Portland, OR, you can be sure you'll be driving a vehicle that's ready for anything you send its way.
It comes in 11 exterior paints, including vibrant pops of color like Bikini, Hellayella, and Firecracker Red. If you want your Wrangler to have a more classic exterior, you can choose hues like Black, Bright White, and Sting-Gray.
This SUV also comes in a variety of configurations, with 2-door and 4-door options, as well as up to three roof choices. Did we mention that the doors are removable, and all three roofs open to let in plenty of fresh air?
Under the hood, you can usually find the classic 3.6L Pentastar® V6 engine hard at work. Other options may include a 2.0L turbo I-4. You may also have your choice between a 6-speed manual transmission or an available 8-speed automatic transmission.
New vs Used Jeep Wrangler near Portland OR: Which One Do You Want?
If you need help deciding between a new or used Wrangler, come to our Jeep dealership near Portland, OR, and check out our inventories in person! A member of our sales team will be happy to help you with your car shopping journey, so contact us and schedule your first test drive today!
Shop New Jeep Wranglers for Sale Below!