How Does the Ram 1500 Towing Capacity Compare to the Competition?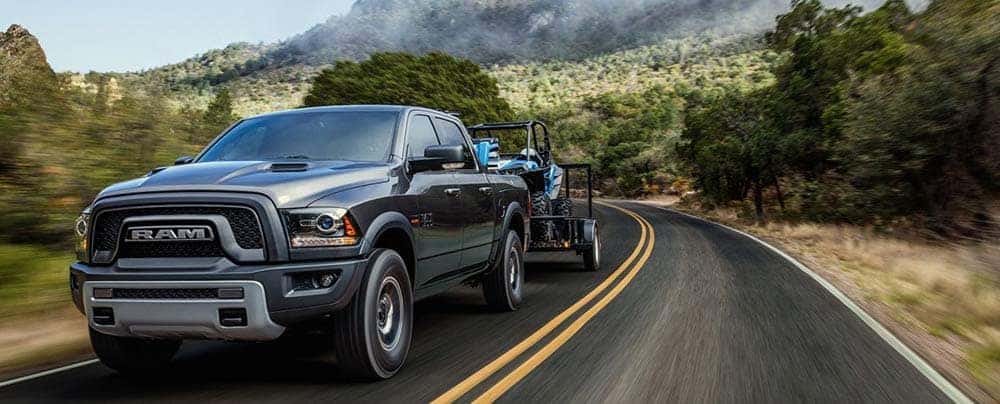 The 2018 Ram 1500 boasts the highest customer loyalty among half-ton trucks, and it isn't hard to see why. A proud American workhorse defined by supreme capability, it delivers:
Up to 10,640 lbs. of towing capacity
Up to 395 hp and 420 lb-ft of torque
Up to a 1,900 lbs. payload capacity
To put those mighty figures in perspective, let's see how the 2018 Ram 1500 towing capacity compares to the competition.
How Do Ram 1500 Tow Ratings Compare to the Competition?
Able to haul up to 10,640 lbs ., the new Ram 1500 can handle anything from heavy trailers to backcountry equipment without breaking a sweat. Small surprise it blows its rivals out of the water:
2018 Toyota Tacoma: Offers a maximum towing capacity of up to just 6,800 lbs.
2018 Nissan Frontier: Offers a maximum towing capacity of up to just 6,710-lbs.
Better yet, the Ram's maximum tow rating is available with either the 5.7L HEMI® V8 or the Class-Exclusive 3.0L EcoDiesel V6, which delivers up to a Best-in-Class 29 highway mpg and a driving range of up to 754 highway miles.
How Do the Ram 1500 Towing Features Compare to the Competition?
Drivers understand a truck needs more than power alone to achieve heavy-duty hauling, and the Ram 1500 complies by offering the following features:
Class-Exclusive TorqueFlite® Eight-Speed Automatic Transmission: With multiple gear ratios, performance is optimized whether towing from a standstill or cruising the highway. A Thermal Management System prevents heavy loads from affecting durability or efficiency, and a Class-Exclusive Rotary E-shift provides effortless shifting.
Class-Exclusive Active-Level Four-Corner Air Suspension : Automatic load leveling maintains exceptional Ram performance regardless of what you're towing, with five ride height settings and the option for manual adjustment.
Come Experience the 2018 Ram 1500 for Yourself
The 2018 Ram 1500 is a show-stealing half-ton truck able to out-tow the vast majority of rival models. It's a vehicle you need to experience first-hand, so don't hesitate to contact us today if you'd like to find out more or arrange a test drive. While you're at it, check out our general comparison between the Ram 1500 and the Chevrolet Silverado 1500, as well as the Ram 1500 and the Ford F-150.